Upcoming Event – How to use photos and imagery to boost your enquiries
Upcoming Event – How to use photos and imagery to boost your enquiries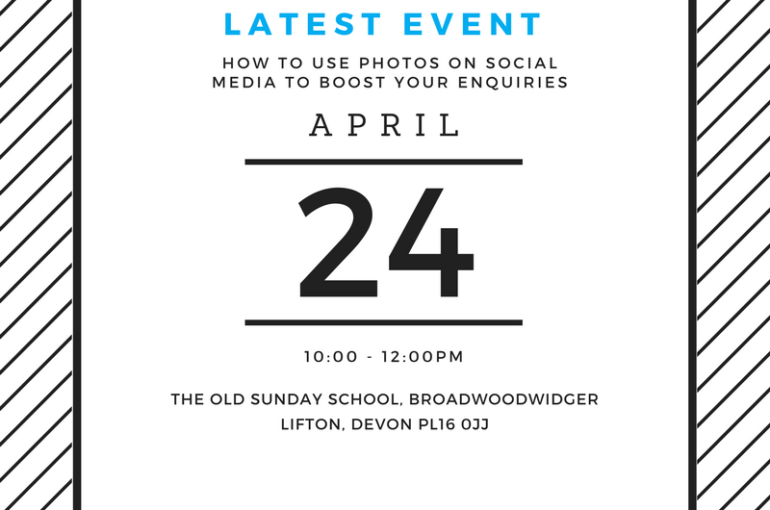 Time: 10 – 12pm
Date: Tuesday 24th April 2018
Venue: Old Sunday School, Broadwoodwidger, Lifton, Devon PL16 0JJ
We all take photos, but do you know how to effectively use yours to increase bookings and enquiries for your business?
Whether it's Instagram, Pinterest, Facebook or Twitter, photos and imagery should form a large part of your social media activity.  We'll be sharing some top tips on how to gain more engagement, reach greater numbers of people and increase the enquiries you receive as a result.
There'll also be plenty of opportunities to ask any questions you currently have, as well as discovering some great photo tools to make you stand out from the crowd!
Who's the event for?
The event is aimed at any business in Devon or Cornwall wanting to understand how they can use photography and imagery to further increase their enquiries.  You'll go away with some simple actions to implement which will improve your results over the coming months.
The Speaker
Mark Worden, Director here at MiHi Digital will be speaking.  Mark has been specialising in digital marketing for more than a decade, and having set up his own business four years ago, has worked with more than 250 across a wide range of industries and generated more than £1 million in client enquiries.
The Venue
The event will be held at 10 – 12PM on Tuesday 24th April 2018 at our offices on the Devon / Cornwall border. There is full parking available and the office is just 1 minute off the A30 dual carriageway.
Booking your Place
To book your place please give our team a call on 01566 232323 or email us on hello@mihidigital.co.uk